Discover more from Humanity Redefined
Humanity Redefined sheds light on the bleeding edge of technology and how advancements in AI, robotics, and biotech can usher in abundance, expand humanity's horizons, and redefine what it means to be human.
Over 1,000 subscribers
Issue #164 - DARPA wants AI to explain itself; Boston Dynamics prepares for mass production of robo-dogs; mini-heart in a jar; and more!
View this email in your browser
This week - DARPA wants AI to explain itself; Boston Dynamics prepares for mass production of robo-dogs; artificial embryo created from stem cells; mini-heart in a jar; and more!
MORE THAN A HUMAN
Liz Parrish Wants to Live Forever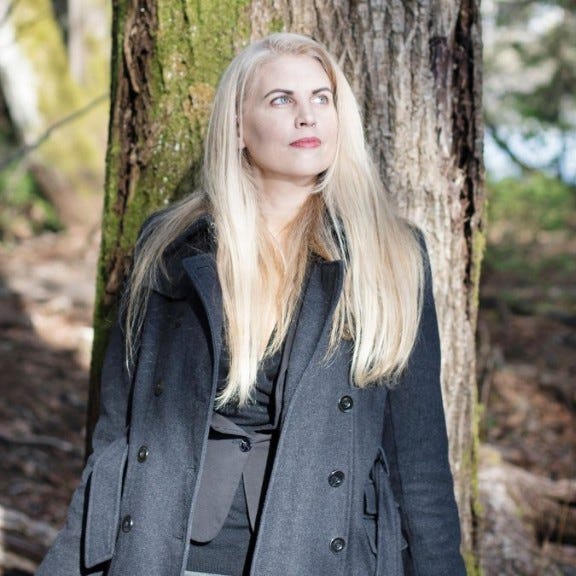 This rather long article explains the life of Liz Parrish - how she became CEO of BioViva and started to tackle the problem of ageing and curing death. You can also listen to the article (46 minutes long).
What is regenerative capacity of humans?
In this short video, Dr Aubrey de Grey discusses how primitive organisms have better regenerative capacity than more complicated organisms such as humans. In humans, Dr de Grey notes, our best regenerative abilities are at the embryonic stage.  During the Embryonic Fetal Transition, out ability to regenerate plummets and continues to diminish as we age. Dr de Grey discusses the role evolution plays in this and how scientists may be able to "revive" our regenerative power.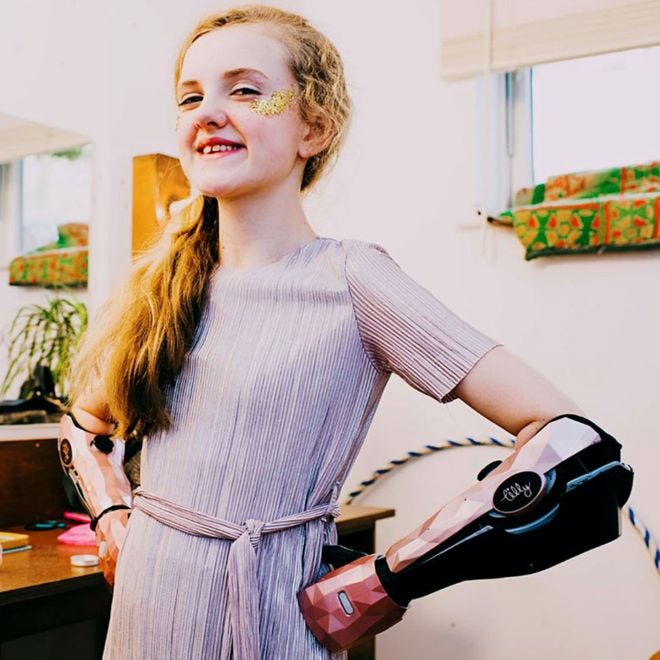 This article from BBC showcases people who turned their disabilities into beauty - a woman with sculpted dragons and crystal beads on her prosthetic leg, a girl with 3D printed bionic arms, and others who personalised their "medical devices".
ARTIFICIAL INTELLIGENCE
DARPA Is Funding Research Into AI That Can Explain What It's "Thinking"
Creating AI system capable of explaining why they come to a certain decision is one of the biggest challenges facing AI research. Last week, DARPA announced its Artificial Intelligence Exploration program. This program will streamline the agency's process for funding AI research and development with a focus on third wave AI technologies — the kinds that can understand and explain how they arrived at an answer.
Elon Musk and DeepMind's pledge to never build killer AI makes a glaring omission, Oxford academic says
Also last week, a number of prominent tech leaders and AI researchers signed a letter in which they promise not to build killer robots. However, an Oxford academic, Dr. Mariarosaria Taddeo, says that while the pledge's intentions were good, it missed the real threat posed by artificial intelligence in warfare.
She believes the deployment of AI in cybersecurity has flown under the radar — with potentially damaging consequences.

From Here to Human-Level Artificial General Intelligence in Four (Not All That) Simple Steps
In this article, Ben Goertzel explains how he sees humanity creating artificial general intelligence (AGI) in four steps. He outlines each one of them and ends the article with some ideas on how to create beneficial AGI instead of one that will destroy humanity in seconds.
ROBOTICS
Boston Dynamics Is Gearing Up to Produce Thousands of Robot Dogs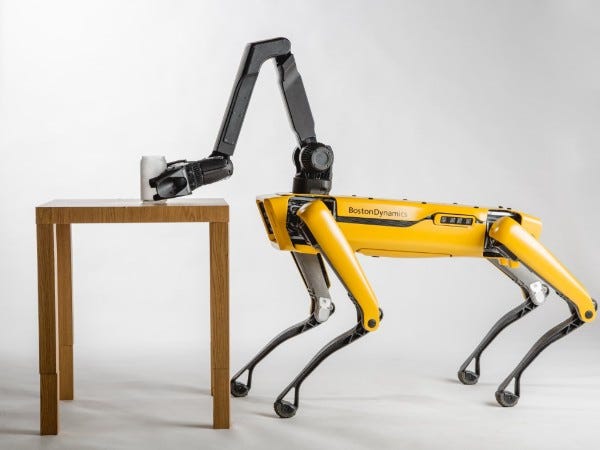 Boston Dynamics, which recently announced that their robot-dog Spot Mini will be available soon, prepares to produce around 1000 robots per year. The price is still unknown.
Centauro: A New Disaster Response Robot From IIT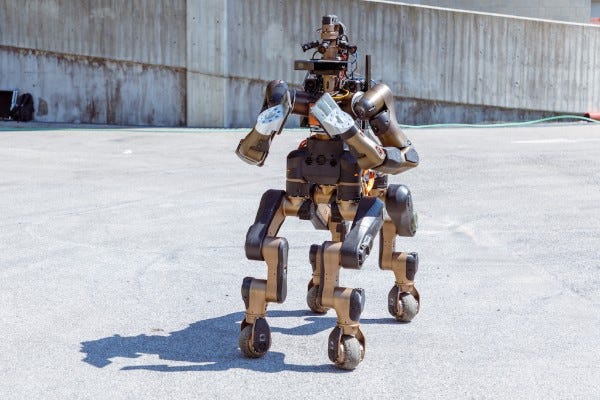 Centauro is a quite interesting looking robot. It looks like a robotic centaur and it is an upgraded version of Momaro - also a centaur-like robot, that was competing in DARPA Robotic Challenge. The team behind the robot hopes to see it being used as a disaster response robot. In the article, you can find a video showcasing Centauro's abilities and an interview with the leader of the project.
A French pizza robot could replace human chefs
Here is another attempt to replace humans in the kitchen. This robot makes pizzas from scratch. It prepares the dough, spreads the sauce, adds toppings, bakes and slices the pizza. The creator of the robot says it is 13 times faster than a human but previous attempts to put a robot in a restaurant failed. Humans turned out to be more efficient.

Researchers design self-powered robots the size of human cells
The latest robots out of MIT are small enough to float "indefinitely" in the air. Researchers accomplished the feat by attaching 2D electronics to colloids — tiny particles measuring around one-billionth to one-millionth of a meter. All told, the devices are roughly the size of a human egg cell. Researchers hope that their robots will soon roam inside pipelines and in our bodies collecting data.

Drone development should focus on social good first, says UK report
A UK government-backed drone innovation project that's exploring how unmanned aerial vehicles could benefit cities has reported early learnings from the first phase of the project. The report outlines some of the challenges facing urban implementations of drone technology and also makes some policy recommendations for using drones in medical delivery, traffic incident response, fire response and construction and regeneration.

The Performers: Act VII | Hiroshi Ishiguro
n 'The Performers' Act VII Gucci and British GQ's video series, the film opens with Erica—a robot created by Hiroshi Ishiguro (roboticist focusing on realistic humanoid robots)—asking "Lately, I've been wondering what is the distinction between you and me?" referring to the differences between humans and robots.
BIOTECHNOLOGY
Scientists generate key life event in artificial mouse 'embryo' created from stem cells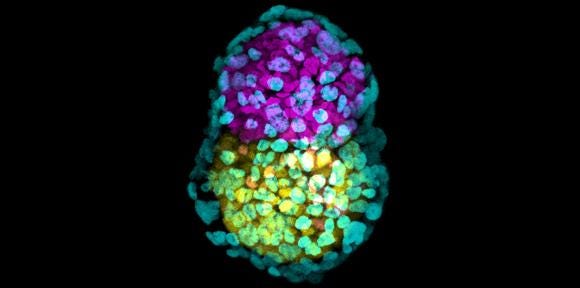 Researchers from University of Cambridge used mouse stem cells to produce artificial embryo-like structures capable of 'gastrulation', a key step in the life of any embryo and a step forward towards creation of artificial embryos.
Check Out This Beating Mini-Heart in a Jar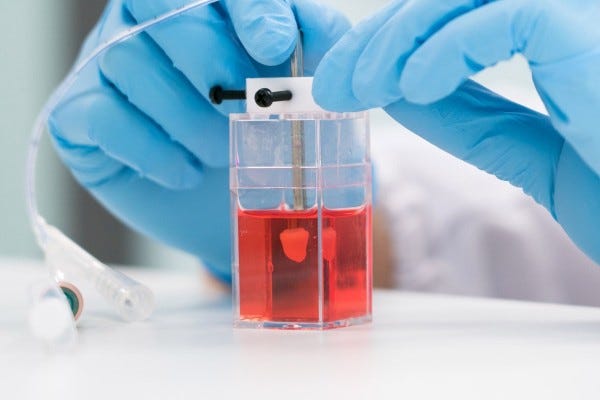 Here are some (oddly beautiful) images of a tiny human heart in a jar. It is not a full-grown heart, though. It is an organoid - a portion of a human heart grown from human stem cells. The company behind it hopes the pharma industry will use them to test drugs.
Thank you for subscribing,
Conrad Gray (@conradthegray)

If you have any questions or suggestions, just reply to this email or tweet at @hplusweekly. I'd like to hear what do you think about H+ Weekly.
Follow H+ Weekly!