Discover more from Humanity Redefined
Humanity Redefined sheds light on the bleeding edge of technology and how advancements in AI, robotics, and biotech can usher in abundance, expand humanity's horizons, and redefine what it means to be human.
Over 1,000 subscribers
H+ Weekly - Issue #248
View this email in your browser
This week - AI got involved in the fight against coronavirus; Boston Dynamics' robot works in a warehouse; a photo book of transhumanists; and more!
MORE THAN A HUMAN
I Want to Believe – an exploration of Transhumanism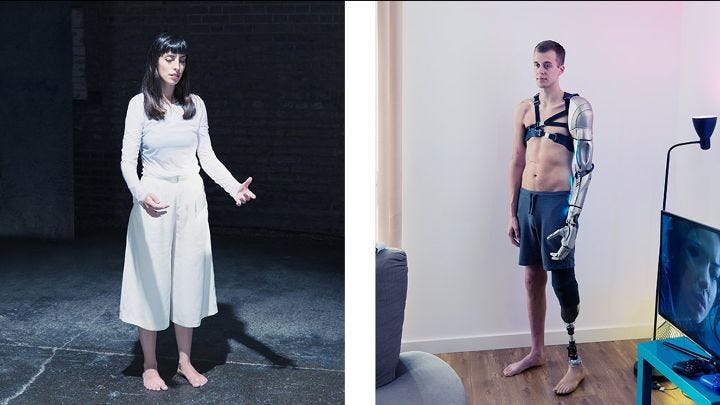 "I Want to Believe" is a project by Gem Fletcher & David Vintiner to create a photo book about transhumanism. On its 128 pages, it will feature people who are already redefining the line between humans and machines, including Neil Harbisson, Moon Ribas, Kevin Warrick, Nick Bostrom, and more.
► The future of personal implantables (1:42:54)
Implantable devices have been transforming medicine and healthcare since the first heart pacemakers in the 1950s. But how much progress has taken place since then? And what lies ahead for implantables? Anna Luisa Schaffgotsch shares her vision for the future of implantables and showcases key market research.

Prosthetic offers real-time mind control of robotic hand
Researchers have tapped faint, latent signals from arm nerves and amplified them to create a prosthetic that enables real-time, intuitive, finger-level control of a robotic hand.

Star Wars actor Mark Hamill surprises girl with R2-D2-style arm
Eleven-year-old Bella Tadlock is the first person in the US to receive a bionic arm designed in the style of the Star Wars droid R2-D2. She did not expect that Luke Skywalker himself will congratulate her.
ARTIFICIAL INTELLIGENCE
Why hasn't AI changed the world yet?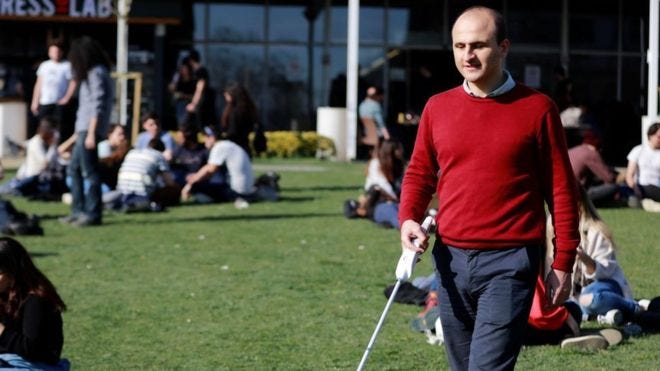 The main argument of this article is that although AI revolution of 2010s was a significant step forward in AI research, the field still does not live up to the hype it generated. It points out that the industry is facing challenges right now which current tools may not be sufficient to solve. Maybe a new revolutionary technology is needed?
To build amazing computers, mimic the brain?
Researchers discovered a solid-state material mimics the neural signals responsible for transmitting information in the human brain. The new material allows creating electrical spikes in the same way that neurons function in the cerebral nervous system.

Reinforcement-learning AIs are vulnerable to a new kind of attack
Reinforcement learning AIs, which are used in self-driving cars, robots or in automated trading systems, are vulnerable to adversarial attacks, a new research shows.

Forget Chess—the Real Challenge Is Teaching AI to Play D&D
While some looked at chess, Go or StarCraft II as games to make AI better, others turned to Dungeon and Dragons as the most challenging game for AI to master. Just ask your local game master how unpredictable a game of D&D can be to get an idea of how challenging running a game can be for an AI.

Computational predictions of protein structures associated with COVID-19
DeepMind shared structure predictions for six proteins associated with the virus that causes COVID-19. Those six proteins were generated by AlphaFold - an AI designed to generate protein structure when no structures of similar proteins are available.
ROBOTICS
► Boston Dynamics' Handle integration with OTTO robots (1:13)
Boston Dynamics announced a collaboration with OTTO Motors to coordinate mobile robots in the warehouse.
British Airways is testing self-driving wheelchairs at JFK and Heathrow
British Airways will debut its self-driving wheelchair trial at Heathrow International Airport in London over the next few months. It recently began testing the devices, made by Japanese startup WHLL, at JFK International Airport in New York.

Mass layoffs reported after Starsky Robotics fails to find buyer
Autonomous trucking startup Starsky Robotics has laid off the majority of its engineers and office personnel after its fundraising efforts and attempts to find a buyer failed. Founded in 2017, Starsky had raised more than $20.3 million. However, the startup failed to secure additional funding since the last round nearly two years ago.
BIOTECHNOLOGY
Self-Assembly Biomaterial Discovery Enables 3D Printing of Tissue-Like Vascular Structures
An international team of scientists have discovered a new material that can be 3D printed to create tissue-like vascular structures. Researchers have developed a way to 3D print graphene oxide with a protein which can organize into tubular structures that replicate some properties of vascular tissue.

'DNA origami' motor rolls over nano speed record
Scientists have created the fastest, most persistent DNA nano motor yet through a technique known as DNA origami. The work provides a blueprint for how to optimize the design of motors at the nanoscale.

Gene Therapy Is Successfully Treating a Common Form of Inherited Blindness
Thanks to new experimental gene therapy, a patient known as K.L. recovered from a severe form of inherited vision loss. "My vision was beginning to return in the treated eye. The sharpness and depth of colors I was slowly beginning to see were so clear and attractive," said K.L.
Thank you for subscribing,
Conrad Gray (@conradthegray)

If you have any questions or suggestions, just reply to this email or tweet at @hplusweekly. I'd like to hear what do you think about H+ Weekly.
Follow H+ Weekly!