Discover more from Humanity Redefined
Humanity Redefined sheds light on the bleeding edge of technology and how advancements in AI, robotics, and biotech can usher in abundance, expand humanity's horizons, and redefine what it means to be human.
Over 1,000 subscribers
H+ Weekly - Issue #263
View this email in your browser
This week - we can finally buy Boston Dynamics' Spot; a failed gene-editing experiment on human embryos; how life after AI could look like; and more!
ARTIFICIAL INTELLIGENCE
Who should own the copyright of AI-generated art?
When an AI creates a piece of art, who owns the copyright? This article lists all the stakeholders in this problem and concludes with the answer that it is not easy and the law is way behind the technology here.

'Artificial Chemist' learns to make best quantum dots in minutes
Quantum dots are colloidal semiconductor nanocrystals, which are used in applications such as LED displays. In proof-of-concept experiments, research shows that an AI-powered "Artificial Chemist" can identify and produce the best possible quantum dots for any colour in 15 minutes or less.

► Isaac Arthur - After AI (26:44)
Artificial Intelligence seems nearer everyday, and many people worry about a conflict between us and robots & computer minds, but what would life be like After AI?
ROBOTICS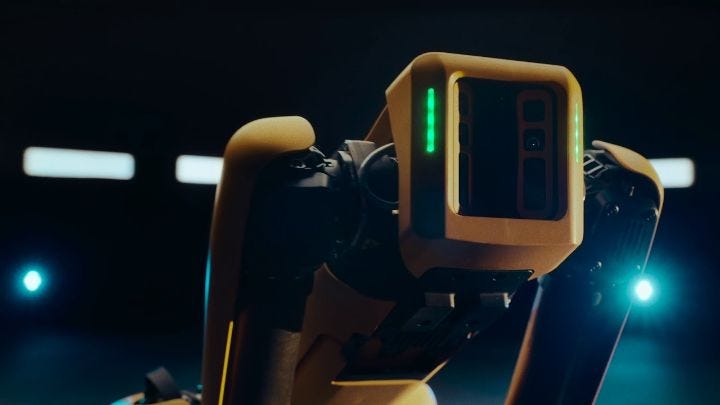 Boston Dynamics finally started to take orders for Spot Mini from everyone! And by everyone, I mean everyone who has $74,500.00 for the base robot without any addons.
Intel, Google, UC Berkeley AI team trains robot to do sutures
In a collaboration between Google Brain, Intel Corporation and the University of California, Berkeley, researchers have 'trained' da Vinci surgical robots to mimic surgical procedures through the use of instructional videos from YouTube.

We can make robots from gelatine and other edible ingredients
Researchers have created an edible robot. The prototype, which looks like an elephant's trunk, was made from gelatine and other ingredients that are safe to eat. Researchers hope to see this kind of robot used to deliver drugs to animals (the robot can be disguised as a pray and be eaten by the animal). Another option is to apply the technique to make safe to eat toys for small children.
BIOTECHNOLOGY
Scientists Edited Human Embryos in the Lab, and It Was a Disaster
Biologist Kathy Niakan and her team at the Francis Crick Institute wanted to better understand the role of a particular gene in the earliest stages of human development. So, using CRISPR, they deleted that gene in human embryos that had been donated for research. When they analyzed the edited embryos and compared them to ones that hadn't been edited, they found something troubling: Around half of the edited embryos contained major unintended edits.

A New Kind of Natural
An artist imagines life forms that will arise from the convergence of technology and biology.
CLOSING NOTES
London Futurists is hosting another interesting event this Saturday - Politics for greater liberty: transhumanist perspectives. Jay Friedenberg, José Cordeiro, Natasha Vita-More and Charlie Kam will share their thought on what transhumanism has to offer to make politics better and how transhumanistic philosophy and ideas help navigate through the uncertainty we live in. The event is on Saturday, June 20th, from 7 pm UK time. You can register here.

On Wednesday, 24th June, Luke Robert Mason from FUTURES Podcast will interview Prof Steve Fuller, asking:

"What motivates a desire to transcend our perceived human limitations? What new bioethical approaches must we take? What can we learn from Nietzsche's concept of the Übermensch - the ideal superior man of the future - that has real-world application today?"

You can join the interview on Wednesday, 24th June, from 7 pm UK time by registering here.
Thank you for subscribing,
Conrad Gray (@conradthegray)

If you have any questions or suggestions, just reply to this email or tweet at @hplusweekly. I'd like to hear what do you think about H+ Weekly.
Follow H+ Weekly!